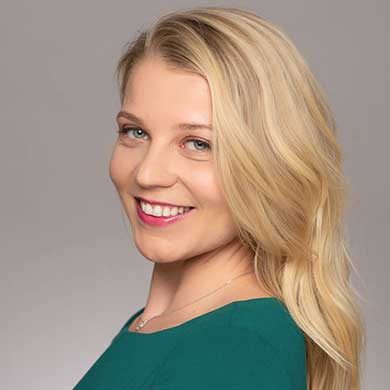 Ivana Stolnik
Journalist, Philanthropist, Women's Health and Human Rights Advocate
Executive Director's Award in Philanthropy
The PCOS Challenge Executive Director's Award in Philanthropy is the organization's premier philanthropy award which honors an individual or family with a proven record of exceptional generosity who, through direct financial support, demonstrates outstanding civic and charitable responsibility and whose generosity encourages others to take philanthropic leadership roles related to PCOS.
---
Ivana Stolnik is a journalist by training, philanthropist, investor and a passionate advocate for human rights and women's health. PCOS is a cause dear to her heart as she has been affected by the condition since childhood.
Ivana was born and raised in Croatia, during the war torn times following the breakup of the former Yugoslavia. Hiding in a basement with her mother and younger sister during the early 1990's bombings in Croatia left an indelible memory of what being caught up in circumstances far beyond one's control can mean. This traumatic experience made her particularly empathetic to the plight of innocent women and children.
Ivana came to the United States, by herself, 7 years ago to pursue her education. Ivana received her BA in Journalism and Business Management from Stony Brook University and her MA in International Relations from NYU. Her main focus there was human rights, international law and refugee resettlement. She speaks several languages and has traveled all around Europe, the United States, Canada, Iceland, Japan, Africa, and to many of the Caribbean Islands. Other fascinating experiences include visiting Ecuador, Israel, Jordan, and The Galapagos. Her travels have both broadened and deepened her understanding of the situations of other people, especially those of women.
Ivana works and funds various non-profits and for-profit organizations in the fields of refugee resettlement, human rights, women's health and student scholarships in America, in her home country of Croatia and in Africa.